Artist Profile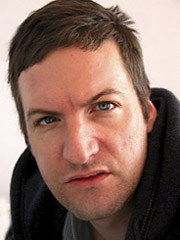 Guy Aitchison
View Tattoo Gallery
-
Email Artist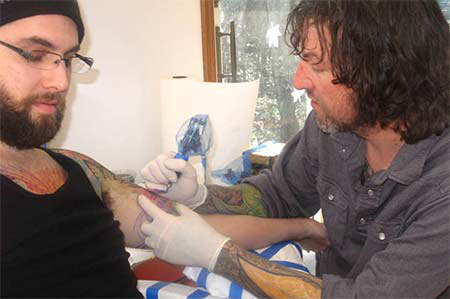 When Guy Aitchison was 16, his sister Hannah approached him from out of the blue and asked him if he felt like going to get tattooed. Guy had never thought about the subject before, indeed had never seen any tattoo work walking around that had made him think anything about tattooing. But the idea immediately appealed very strongly to him. They made an appointment at a grungy local shop for the following week, during which time Guy played around with drawings for the piece. And he had dreams: Dreams of getting tattooed. Of doing tattoos. Of teaching tattooing... of standing on a stage addressing a tattooed crowd. He knew right away that he had found his calling.
After several years as a struggling freelance illustrator, focused mainly on painting album cover designs for low-budget punk and metal bands, Guy finally landed a tattoo apprenticeship at Bob Oslon's Custom Tattooing in October of 1988. The tattoo profession was very closed at the time, with only a tiny handful of shops operating in the entire Chicago metropolitan area. There were ads for tattoo equipment in a few magazines at the time, but Guy was not at all comfortable with the idea of teaching himself something that is in fact a quasi-medical procedure. Being offered that apprenticeship felt to him like being accepted into Harvard, and he embraced the opportunity with all of his energy.
He quickly found that tattooing is an artistic medium with a great deal of flexibility for technical experimentation and personal expression. This ran contrary to what he'd been told by the established tattooers he'd been collecting from, but it made sense, and he was not the only young tattooist arriving on the scene at that moment who was discovering this. Artists such as Aaron Cain, Marcus Pacheco, Eddy Deutsche, Timothy Hoyer, Greg Kulz and Bernie Luther were all trying- and doing amazing things with- new variations on the traditional approach to tattooing.
After only a year at Bob Oslon's shop, Guy was offered his first magazine article, and from that point on made an effort to keep his work in front of the public eye. In two and a half decades he has had countless magazine features and dozens of appearances in fine art books, along with a handful of TV and radio appearances. Currently his efforts are focused mainly online, and in publishing educational and fine art books for the tattoo industry such as Scratch Art, Organica and Innerstate. You can see more of his published material at our online store.
The educational side of Guy's career fell together very naturally, starting with being offered a chance to teach a seminar at one of Dennis Dwyer and J.D. Crowe's Tattoo Tour conventions, which at the time were the gold standard of tattoo expositions. The idea of presenting educational material in a seminar format was revolutionary; previously, tattooists had always protected their information with great suspicion, since the industry was so small and so closed. With the blossoming of tattooing and the influx of new artists, there was room for everyone to grow without stepping on each other's toes. Guy's seminar that weekend was about doing coverup tattoos, and he handed out illustrated 30 page booklets to everyone that attended. As he did different seminars from time to time, he created different new booklets, and inevitably was asked by people who couldn't attend the seminars if they could just buy the books. From this beginning, his books evolved into the massive 368 page Reinventing The Tattoo, which also includes a detailed DVD, as an effort to create the most comprehensive learning package possible.
Much of the tattoo educational process is focused on gaining a full knowledge of the technical matters such as machines and needles. Although Guy does address these subjects, his opinion is that the artistic and compositional end of the process has been grossly underrepresented, and seeks to bring that to the forefront. He feels that a good design can survive a slightly weak execution, while a poor design will look bad no matter how technically perfect it may be. So a good deal of his emphasis is on things like color theory, flow, dynamic composition, depth, lighting, contrast and other more traditional fine art theory, reframed to be as helpful as possible for tattoo artists.
Guy's interest in these subjects is largely because of the types of artistic subject matter he is attracted to, which generally require a finely balanced yet maximalized approach, where all the tricks of depth and lighting are brought into play to bring out a highly dynamic visual experience. His favorite subject matter is abstract, but with a sense of realism applied so the viewer is transported into an alternate reality that they can truly immerse themselves in. Much of this approach came from the unusual collection of artistic influences that Guy absorbed while he was young and soaking things up like a sponge: Max Ernst, Salvador Dali, M.C. Escher, Leonardo Da Vinci, H.R. Giger, Michael Whelan, Derek Riggs and Victor Varsarely. This, along with keen interests in cutting edge science and psychedelic culture, come together into Guy's signature style.
Latest Tattoos
View Tattoo Gallery
Latest Artwork

View Artwork Gallery