Reinventing The Tattoo: Technique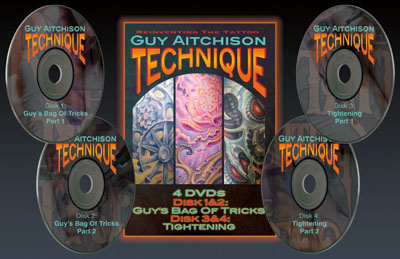 PRICE:$200.00

SALE PRICE:$125.00

Reiventing The Tattoo: TECHNIQUE
4 DVD set 5+ hours $200
For a decade and a half now Guy Aitchison been perfecting his Reinventing The Tattoo curriculum, which teaches some of the fundamentals of artistic design in a way that can be applied toward making your tattoo work stronger, more dynamic, and more unique. It aims to balance understanding of artistic essentials with cutting-edge technical knowledge to give students a broad base of understanding toward being better artists across the board.

The latest installment in the Reinventing series is simply titled Technique. It's a four disk set that shows you closeup footage of the machine in action as Guy works through five different projects, presented in a concentrated format. The first two disks are a special edition cut of his Guy's Bag Of Tricks webinar, showing a project being done from start to finish as he answers a variety of questions from the audience. He goes into detail about the design preparation, palette and the equipment and methods he's using to bring the project to completion. The other two disks, Tightening 1 and 2, go into detail about finishing techniques, spotlighting four projects up close, with a voiceover describing every move in detail as Guy shows the line building, detailing, smoothing and other development on a variety of effects including floral, organic, mechanical, metallic and carved wood, with each piece showed healed so you can really see the kind of results that you can realistically expect from working with these methods.
This four disk set is about as technical as it gets. It's a natural follow-up from the material Guy teaches in the original Reinventing The Tattoo book and DVD set, but is also made to serve as a stand-alone educational experience whether you've read the original book or not. It's intended for professional tattooists only, or apprentices working under the guidance of a professional.